Todd Hughes is the director of the California Health Interview Survey (CHIS), the nation's largest ongoing state health survey. With over 25 years of experience managing population-representative household surveys, in roles that grew from face-to-face interviewer to survey director, he brings a comprehensive vision of what is needed for population surveys to be successful operationally, fiscally, scientifically, and methodologically. A passion for efficiency, a strategic view toward the future, and an eye for methodological creativity make him a valued leader in survey research.
In his role as director of the CHIS, Hughes oversees all data collection, survey research projects, vendor management, sample design, questionnaire development, data dissemination, and management of all project deliverables. He led the 2019 redesign of the CHIS survey methodology from a telephone survey to an address-based sampling design using mail push-to-web data collection with telephone follow-up, which required leading the development of field experiments, assessments of experimental results, and rolling out the new methods with CHIS data users and funders during the transition and implementation periods. He continues to develop new methodologies to ensure the CHIS operates effectively to represent California's diverse population, and also works to leverage the CHIS data infrastructure to support follow-on studies of special topics and subpopulation groups in collaboration with researchers across the U.S.
Prior to his tenure at UCLA, he was the assistant division chief of the U.S. Census Bureau's American Community Survey (ACS), where he helped oversee the 3.5-million households survey with an annual program budget of up to $250 million. During his tenure, he oversaw new efforts to increase response rates, including an internet response option as well as changes in ACS mail methodology, and adaptive design principles on follow-up methods. During his career at the U.S. Census, Hughes also supervised data collection for the Current Population Survey, Consumer Expenditure Survey and other Census surveys.

Hughes holds a master's certificate in project management from The George Washington University School of Business and Public Management and a bachelor of science in statistics from Brigham Young University.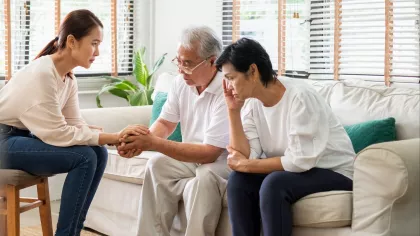 Research Report
The COVID-19 pandemic has adversely affected Asian Americans, Native Hawaiians, and Pacific Islanders (AA and NHPIs) in many ways — through economic hardship, negative health outcomes, and rising incidents of hate and violence. This joint report with AAPI Data examines gaps in accessing health, mental health, and social services for AA and NHPI communities in California.
Vigour Times
An increasing number of low-income, working-age Californians are facing challenges accessing nutritious and affordable food, as per a study released by the UCLA Center for Health Policy Research.