Legal and Regulatory Guidance for Racial/Ethnic Data Disaggregation in Health Data Sets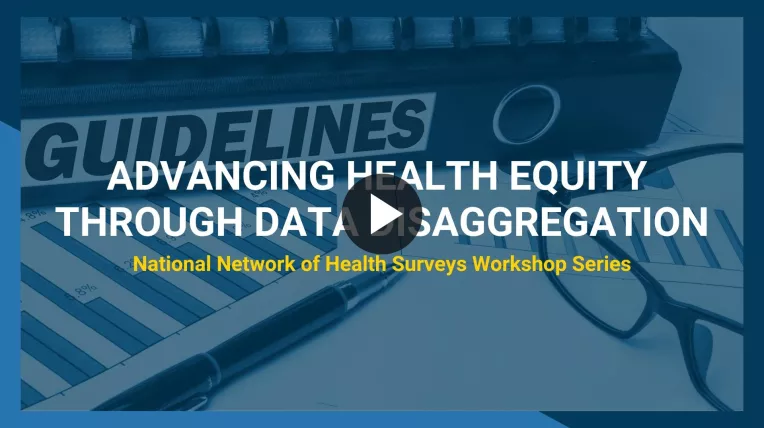 Play Video
Legal and Regulatory Guidance for Racial/Ethnic Data Disaggregation in Health Data Sets
On February 9, 2022, the UCLA Center for Health Policy Research's National Network of Health Surveys hosted a workshop on Legal and Regulatory Guidance for Racial/Ethnic Data Disaggregation in Health Data Sets. Our panel of experts discussed the landscape of rules and regulations that provide guidance – and sometimes confusion – on the collection of racial and ethnic information in a variety of health data sources from national surveys to state health departments to hospital level data.
Presenters:
Ignatius Bau, JD, Health Policy Consultant
Sarah Scholle, DrPH, Vice President of Research and Analytics, National Committee for Quality Assurance (NCQA)
Jennifer Park, PhD, Study Director for the Committee on National Statistics, National Academy of Sciences and Medicine

About the National Network of Health Surveys' Advancing Health Equity Through Data Disaggregation Workshop Series

Disaggregated race/ethnicity data is needed to expose gaps in health equities and inform policies and programs and close those gaps. The National Network of Health Surveys, part of the UCLA Center for Health Policy Research, offers a series of workshops designed to improve the disaggregation of race and ethnicity measures in health data sources. Our goal is to boost the number of subpopulation categories made available to key constituencies working to improve health equity. This is especially important for representing communities that are often "hidden" in large health data sets.
Topics and Timestamps
Common Questions Regarding Federal Standards for Collecting & Reporting Race/Ethnicity: Jennifer Park, PhD (5:05) 
Why a Federal Standard on Race/Ethnicity? (7:05) 
Established to maximize information that can be used to inform federal policy and emphasized comparability of data collected. 
What are minimum data COLLECTION requirements? (8:32)
Not all Federal agencies MUST collect data on race/ethnicity but if they chose to do so, they must follow specific requirements. 
What are the minimum REPORTING requirements? (9:27)
Agencies are encouraged to report ethnicity by each minimum race category, however, if this is not possible due to sample size limitations, other options are available. 
Can detailed race/ethnicity be COLLECTED? (11:03) 
Yes! Federal agencies can and are encouraged to do so by the 97 Standard to collect more detailed race/ethnicity data. Examples of more detailed categories included. 
Can detailed race/ethnicity be REPORTED? (11:30) 
Yes! But due to the established standards to allow comparison, each detailed category must be aggregated into a minimum category. Examples included for reporting purposes. 
How are Federal Standards Revised? (12:43) 
Steps toward revision including establishment of a working group for review by the Office of Management and Budget and inclusion of public comment through implementation. 

Additional Standards of the Federal Government & State Level: Ignatius Bau, JD (19:16) 
Affordable Care Act – Section 4302 (21:35) 
Proposed standards for disaggregation of data in health surveys that Department of Health & Human Services might be administering. 
2015 Edition Health IT Certification Criterion (22:55) 
In electronic environment, there is more flexibility to disaggregate due to drop down menus, autofill, etc. therefore, there is more ability to use all the CDC 900 codes to complete full disaggregation.  
United States Core Data for Interoperability (USCDI) (25:51) 
Adopted the full CDC disaggregation list within standards for the interoperability of personal electronic health records. 
State Examples: (25:55) 
Oregon (26:00) 

Importance of disaggregation based on subgroups.
Showed challenges transitioning to online identification with use of dropdown boxes and experienced less response engagement with optional self-identifying questions. 
Emphasized the need for more community education on the importance of self-identification and reporting in an electronic environment.

Hawaii (29:12) 

Highlights importance of disaggregation of data and viewing trends that emerge when subgroups are separated from larger classifications.

New York (32:05) 

Various examples of how disaggregation of race/ethnicity found new trends in disparities and health information. 
Assembly Bill A6896A – state specific population disaggregation standards

Massachusetts (35:20) 

Bill No3115 – further example of proposed legislation for disaggregation standards based on state-specific populations. 
 
Addressing the gaps in data on race and ethnicity: Sarah Hudson Scholle, DrPH (36:52) 
Improving Data on Race & Ethnicity: A Roadmap to Measure and Advance Health Equity (37:41) 
Race & Ethnicity Date are often incomplete (38:32) 

Breakdown of various setting data (including Medicare and Medicaid) and status of collection standards, completeness, self-reported status, and data available for research. 

Key Barriers to Improving Collection & Use of Race/Ethnicity Data (40:19)  

List of key findings that barred improvement including legal and privacy concerns, technical barriers, cost, and lack of resources among others. 

Principles for Improving Data on Race and Ethnicity (42:14) 

Recommendations include changes in data standards, incentives & requirements, education & technical assistance, and regulation. 
Approaches from NCQA on encouraging attention to equity: (46:25) 
Emphasis on building the systems to address equity through Health Equity Accreditation and using data by reporting HEDIS measures stratified by race and ethnicity
What's New in Health Equity Accreditation? (47:45) 
Now includes 'Organizational Readiness', new requirements for data system capabilities and standards, and new requirements for HEDIS measures on stratification. 

Key Elements of Stratification (48:25) 
Race & Ethnicity Stratification (49:41)