Brenna O'Masta is a project manager/research analyst for the Health Economics and Evaluation Research Program at the UCLA Center for Health Policy Research (CHPR). She is currently involved in the management of multiple projects, including evaluations of Whole Person Care and the Health Homes Program for the California Department of Health Care Services where she focuses on quantitative analysis of medical claims data.

Prior to joining UCLA CHPR, O'Masta worked at the University of Cambridge with the clinical informatics group to facilitate research using a newly acquired electronic health record. She also worked as an analyst at a life science and public health consulting company in Washington, D.C., where she managed a large-scale meta-analysis of ADHD risk factors for the Centers for Disease Control and Prevention.

O'Masta has a master's degree of public health in epidemiology from the University of Washington (UW) and a bachelor of science degree in biochemistry from the University of Virginia. While at UW, she worked with the Washington State Department of Health to develop a novel pneumococcal disease surveillance system using a near real-time syndromic data feed.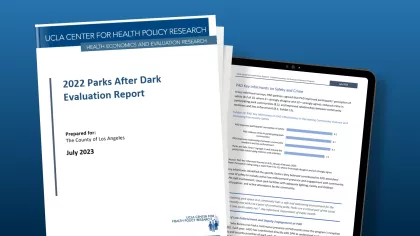 Policy Research Report
In this report, the UCLA Center for Health Policy Research provides information from their comprehensive evaluation of the 2022 Parks After Dark (PAD) program, a Los Angeles County initiative that was implemented in areas with high levels of violence, obesity, and economic hardship.