AJ Scheitler, EdD, is the
director of development, engagement, and strategic planning, and coordinator of the National Network of State and Local Health Surveys
at the UCLA Center for Health Policy Research. She leads the Center's development activities and fosters funder relationships. Scheitler also manages several large programs at the Center, including a national network of population health survey leaders and data users promoting the improved collection and dissemination of critical local and state health data.
 
Prior to joining the Center, Scheitler conducted federal resource development activities for a number of institutions of higher education and lobbied Congress and the federal government for the interests of education organizations and post-secondary schools. She has experience at the state government level as well, having served as the chief of staff for the Florida Senate Minority Leader.
 
Scheitler holds a doctorate in higher education administration from Northeastern University, a master's degree in adult education and training from Colorado State University, and a bachelor's degree in communications from the University of Central Florida.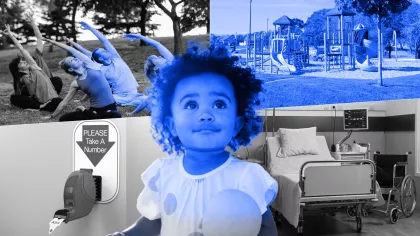 Research Report
A team of researchers examined the state of modern health and health care in California, the historical policy decisions and societal shifts that created the current situation, and trends influencing change in the existing health care environment. They focused on the seven topic areas: (1) health systems and public programs, (2) insurance coverage and markets, (3) environmental influences, (4) chronic conditions and mental health, (5) child and adolescent health, (6) aging residents, and (7)...