Nadereh Pourat, PhD, is the associate center director and the director of the Health Economics and Evaluation Research Program at the UCLA Center for Health Policy Research. She is also a professor of health policy and management at the UCLA Fielding School of Public Health, professor at the UCLA School of Dentistry and a member of UCLA/Jonsson Comprehensive Cancer Center, Division of Cancer Prevention and Control Research. Pourat is the vice chair for cost in the California Health Benefits Review Program (CHBRP).

Pourat focuses on assessing disparities in access to care of underserved populations, including the role of the health care delivery system in disparities and health care outcomes. Within this context, she has examined disparities in insurance coverage (e.g., Medicaid, private insurance) and health care utilization (e.g., preventive, primary, specialty, oral health, mental health, acute care) in multiple settings (e.g., safety net, private practice) and for multiple populations (e.g., immigrants and undocumented, Asian Americans, low-income adults, older adults). She has also examined the role of organization of the health care delivery system (e.g., dentist, physician, and health center supply and characteristics) and efforts to modify and improve the system (e.g., primary care redesign and patient-centered medical home, safety-net system integration) on access to care of general and underserved populations.
 

Pourat has extensive experience in evaluations of national (e.g., the Health Resources and Services Administration's Health Center Program), statewide (e.g., California Medicaid 1115 Waiver programs including WPC and PRIME, Health Homes Program), and local (e.g., Parks after Dark, Smokefree Housing) programs using mixed methods evaluation designs. She also has extensive experience in design and implementation of surveys of individuals and professionals and participates in design of the California Health Interview Survey (CHIS) by serving on the adult technical advisory committee and content specific technical workgroups.

 
Pourat received her undergraduate degree in psychology from CSU Northridge and her master of science and doctorate in health services at UCLA Fielding School of Public Health.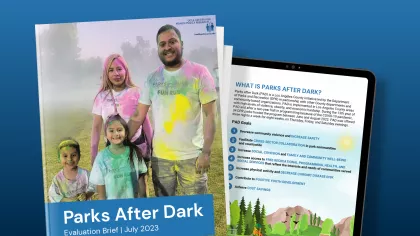 Policy Brief
In this infographic brief, the UCLA Center for Health Policy Research provides information from their evaluation of the 2022 Parks After Dark (PAD) program in Los Angeles County.  PAD is a Los Angeles County initiative led by the Department of Parks and Recreation (DPR), in partnership with other County departments and community-based organizations.
My Science
Ninety-two percent of people who attended a nighttime events program in Los Angeles county parks in the summer of 2022 felt safe, according to a new evaluation by the UCLA Center for Health Policy Research.