AskCHIS NE: How to Add Census Tracts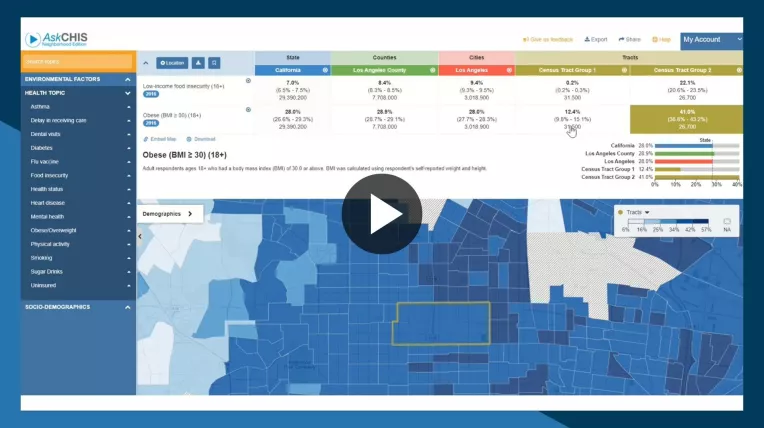 Play Video
AskCHIS NE: How to Add Census Tracts
The UCLA Center for Health Policy Research is proud to announce that AskCHIS™ Neighborhood Edition (NE) has been upgraded to include small area estimates at the census tract level. Census tract estimates are now available for the 2016 data and will continue to be supported in all future data releases. An address lookup tool has been included for users to identify census tracts and users will be able to combine tracts to create custom neighborhood geographies with pooled estimates. Additionally, the 2018 small area estimates for all supported geographies — state, county, legislative district, city, zip code and census tract — will be coming in early 2021.
AskCHIS NE, a product of the California Health Interview Survey, provides health estimates for California's diverse population at the local level (census tracts, zip codes, and cities). With AskCHIS NE, you can get estimates on top health indicators for your zip code, city, county, and legislative district, and produce tables, thematic maps, and bar charts for easy visualization.
Visit askchisne.ucla.edu to get started.